Talking Better Health
Comprehensive, interactive and hyper-personalized health and wellbeing
concierge to guide consumers through their health journey.
Our vision is to remove the confusion and minimize the barriers
that stand between the consumer and actions that
support better health and financial outcomes.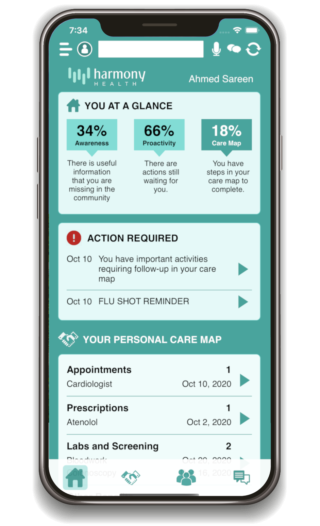 Hyper-Personalized Care Map
Harmony Health takes the hassle out of managing your health by laying out everything you need to know and a path to get there. This personalized experience serves as your 'go-to' across the multiple aspects of health and services; a single guided path focused on simplicity in understanding, using and taking action across healthcare services, prescriptions, diagnostics – targeted to individual conditions and services.
Intelligent Companion Guide
Harmony Health is your companion through the healthcare journey; guiding, prompting and supporting you to take the next step in your journey.. The companion will nudge you through timely reminders, notifications and personalized content through touch, talk or text.
As any good companion, we will track and show you how you are doing, cheer you on when you follow your plan and remind you when something needs attention.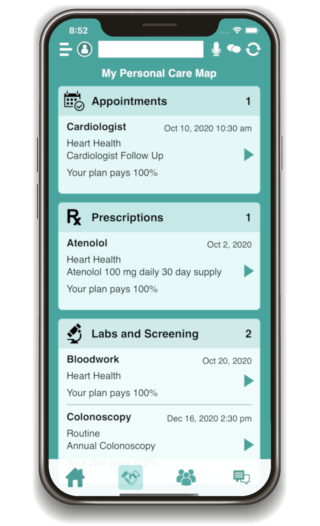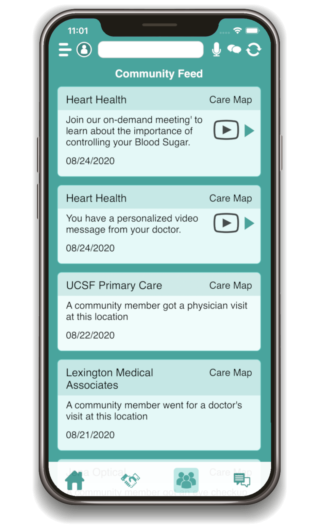 Check-in's - Activity Tracking and Interactive Engagement
The Harmony Health check-in is a unique way to electronically participate in and complete online activities from the convenience of your device, like complete a health screening, share vital information with your provider, participate in an online workshop, schedule an appointment or attend a virtual visit.
Check-in's are designed to be a gateway to open your healthcare journey to additional possibilities.
Transparency & Incentives
Economic fear, complexity and lack of visibility into costs can derail our healthcare journey.
Harmony Health integrates cost, payment and incentives into this single experience so that you have a more comprehensive view of not only what you need to do, but the options and associated cost. Our payment card solution can be a single source of financial empowerment bringing anytime, anywhere payment capability. It also brings together additional innovations to reduce your financial burden like on-demand funds with built-in spending power for out-of-pocket expenses and an automated risk and interest-free way to repay.
Each step in the journey leading you to the right outcomes can create additional incentives and benefits. Making the right decisions should be easy and empowering all the time.